The East African School of Higher Education Studies and Development has bid farewell to two of its long-serving senior staff, namely, Prof. J.C.S. Musaazi and Dr. David Onen. This was at a colorful luncheon held at the University Guest House gardens on Friday 29nd September, 2023. Spiced with music, dance, food, drinks, jokes, laughter and nostalgic speeches, the party started with Mass led by Fr. Anthony Lyazzi (of St. Augustine Chaplaincy), Prof. Fr. Joseph Kimoga (who is also the coordinator of the PhD program at the School), and Dr. Fr. Gerald Bwenvu (a lecturer at the School).
Attended by the School's staff and doctoral class of 2023, the party was graced by the Ag. Deputy Vice-Chancellor (FA), Prof. Frank N. Mwine, who represented the Vice-Chancellor; the Principal of the College of Education and External Studies, Prof. Anthony M. Mugagga; the College HR Officer, Ms. Janet Nabukera, who represented the Director of Human Resources; the Dean, School of Distance and Lifelong Learning, Dr. H. Twine Banuka; and the College Bursar, Mr. Stephen Kayima.
During his homily, Fr. Lyazzi remarked unequivocally that "no one is at Makerere University to stay", so people should serve but also be ready to move on when the time comes for them to do so.
In a speech given for him by Dr. Tom D. Balojja, Prof. Musaazi took credit in having spearheaded Makerere's first-ever taught PhD program and securing the deployment at the School, of Prof. Samuel Olajide Owolabi and Prof. Martin E. Amin by the Commonwealth Fund for Technical Co-operation. Over several decades, Prof. Musaazi served as a professor at the School, head of department and founding principal of the College of Education and External Studies.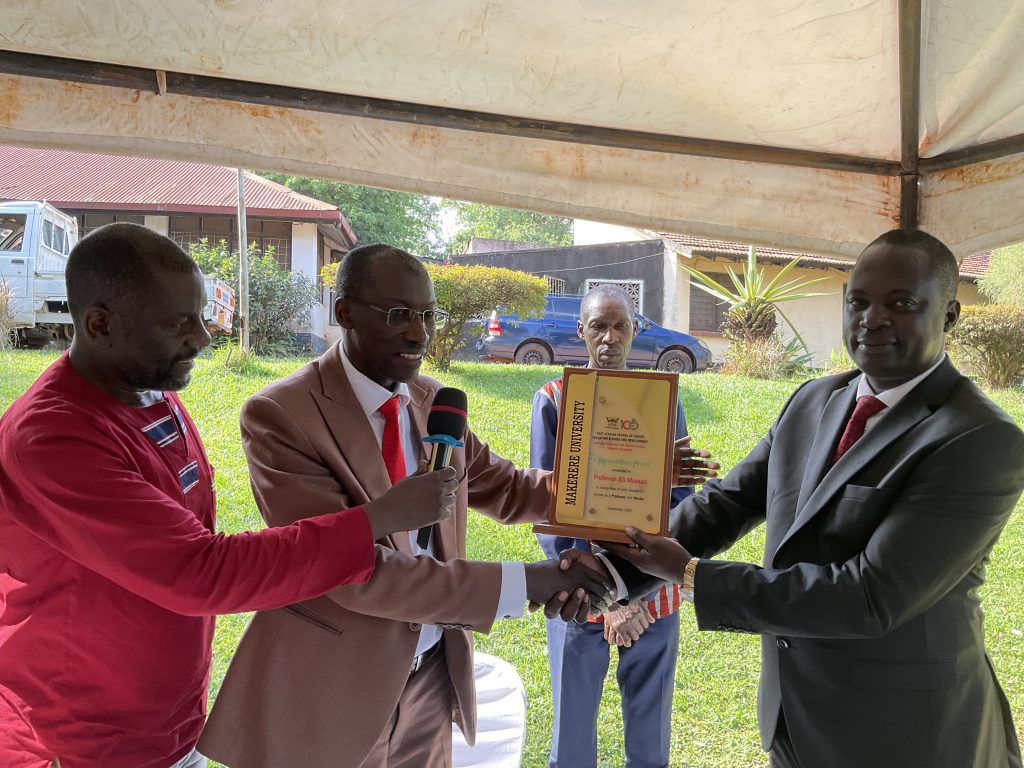 Dr. Onen said that he is leaving the University a happy man. "I am happy because this farewell party has been organized for me. But I am also nervous because this is the first time in many years when I am not at the center of organizing an activity of this nature at the School—because I am now retired," he said. Dr. Onen went on to narrate the highlights in his 37-year long experience at the University, starting as a BSc. student in 1986 until his retirement as a senior lecturer in June this year. In between, he did a PGDE, MA (Ed. Mgt.) and PhD in various units of the present day College of Education and External Studies. He expressed gratitude for the opportunity to serve at the University, which enabled him "to supervise to completion of 14 PhD and 70 masters' students; publish 40 journal articles/ book chapters; and to edit one issue of Makerere Journal of Higher Education (MAJOHE)."
The Ag. Dean of the School, Prof. Julius Kikooma, said that "The East African School of Higher Education Studies and Development is using this opportunity to tell the entire university community that we are starting a new chapter at the School." He thanked Prof. Musaazi and Dr. Onen for their many contributions to the development of the School and Higher Education. Higher Education, Prof. Kikooma noted, is a crucially important unit of the university, the country and the East African region, so it deserves management's strongest support.
In his trademark humorous style, Prof. Mugagga thanked Dr. Onen and Prof, Musaazi for their contribution and wished them well in their future endeavors. He also thanked Prof. Kikooma for pacifying the School of Higher Education of which he is not only a principal but also a proud alumnus.
Prof. Mwine thanked Dr. Onen for his exceptional achievements and congratulated him on reaching his retirement. However, he expressed regret that budgetary constraints delay the promotion of staff, resulting into people like Dr. Onen retiring before reaching their full potential. "In [the Makerere University] Council, some of us suggested that the University [expediently] promotes staff even if it is not possible to increase their salaries immediately but the suggestion could not be adopted because it would present a legal challenge," he explained.
Authored by Jude Ssempebwa