The Grant writing and publication project, a partnership project between Makerere University (Mak) in Uganda and Michigan State University (MSU) in the U.S, was officially launched on Tuesday 21, March 2023, at Makerere University Yusuf Lule (formerly Central Teaching Facility CTF2) Auditorium. The event was attended by representatives from both universities, including early career researchers (ECRs), research and grant managers, the media, and other stakeholders.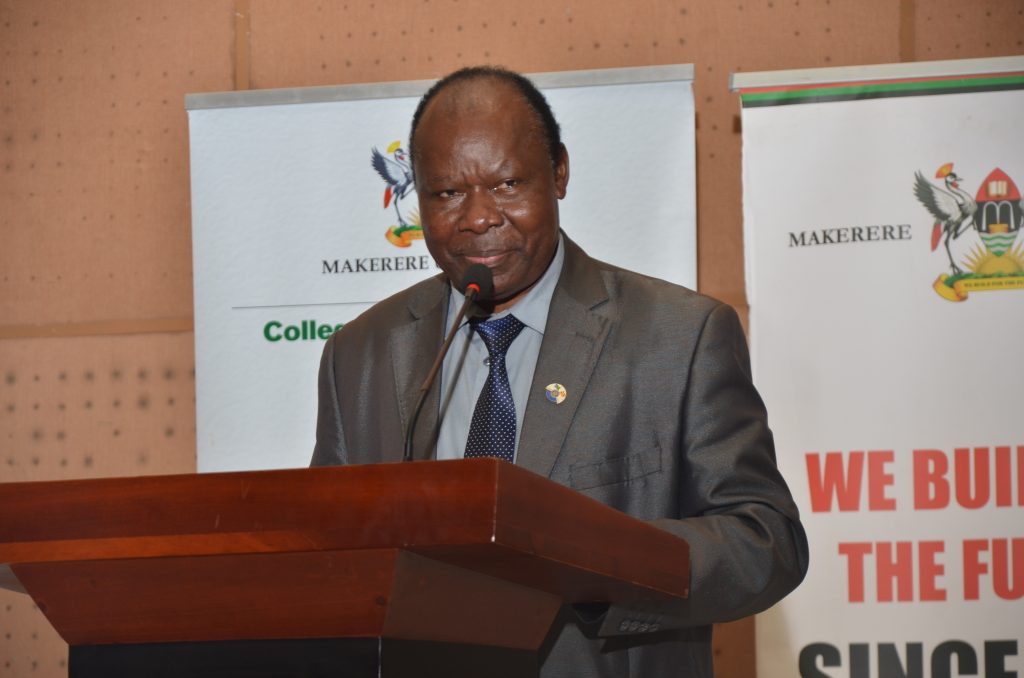 Speaking at the launch, Prof. Fredrick J. Muyodi, the team leader from the Makerere University's Department of Zoology, Entomology and Fisheries Sciences, expressed his excitement about the project, saying it would go a long way in strengthening the university's research capacity.
He congratulated the first cohort of ECRs selected to participate in this training exercise. He also thanked the United States Government through the US Mission in Uganda for funding the project.
"The early career researchers are very important. For those you that have forests, in order to have a forest you need to have seedlings. We are looking at them as a great asset to [Mak] regarding our ambition of being a research led university," said Prof Muyodi.
Prof. Trixie G. Smith, the director of the writing center and the Red Cedar Writing Project at MSU and Project Co-Principal Investigator reiterated the importance of the project and the partnership with African universities such as Mak. She notes that this falls within Michigan State University's strategic plan for 2030 that aims at promoting excellence, enhancing equity, and increasing influence.
"Partnerships such as this with [Mak], where we can collaborate with stellar researchers and visionaries, where we can work together to build on the abundant strengths and where we can conduct research together that is important to a global audience, as well as a local one is key," Prof. Smith said.
According to Trixie, Writing is a multipurpose tool that applies to various areas of study and subject matters with the ability to surpass personal characteristics such as gender, agency, and citizenship.
"Focusing on writing and the needs of writers, no matter their level or type of writing, can open up new opportunities for networking, for influencing readers and researchers, or making connections in the community and beyond," said Trixie.
She contends that writing has not only the potential to provide a platform for new ideas but also solutions. "Whether we're thinking about food security or the effects of climate change on our planet, whether we are thinking about the role of play and literacy learning for our children, or the role of education in keeping people healthy. I am excited to be a part of this launch and I have the opportunity to work with so many of you in the upcoming days and months, and hopefully for many years to come."
Prof. Trixie G. Smith, the director of the writing center and the Red Cedar Writing Project at MSU and Project Co-Principal Investigator and Prof. Muyodi at the launch.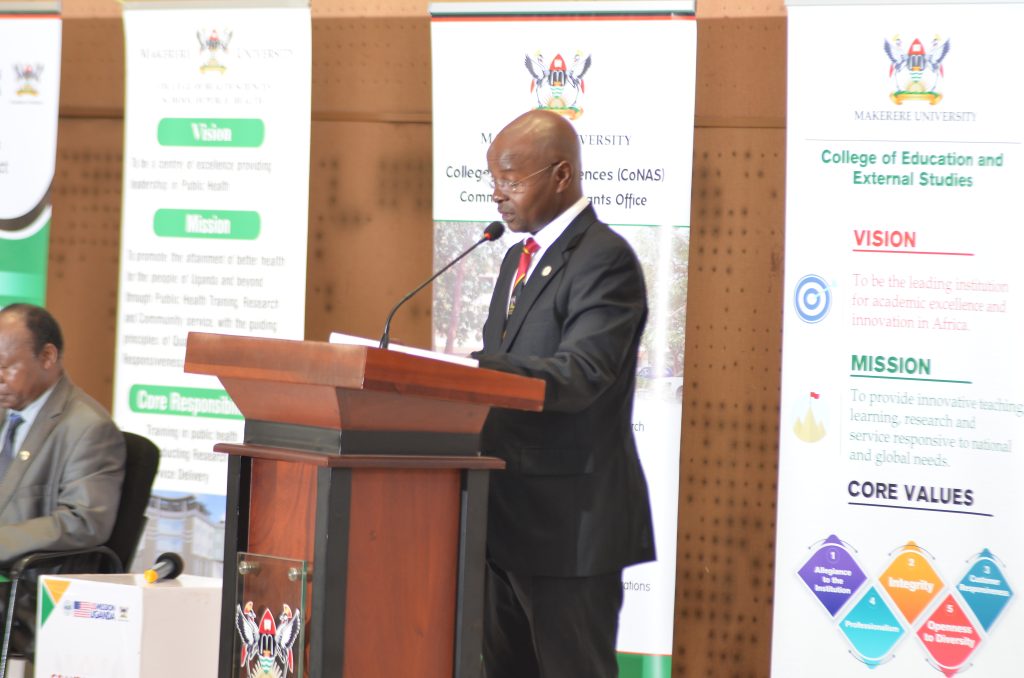 Professor Edward Bbaale, the Director of Research and Graduate Studies (DRGT) who represented the Mak Vice Chancellor at the launch expressed his excitement about the newly launched grant writing and publication project. "The directorate is also charged with ensuring a conducive environment in which graduate training and research can thrive. This therefore means that having a research topic like this one is right within what is of great interest to the DRGT. And on behalf of colleagues from the directorate, I would like to congratulate Prof. Muyodi, Prof. Trixie and all members and colleagues involved in this study and we pledge our support in all stages of this project."
In his written speech, Prof. Barnabas Nawangwe, the Vice Chancellor hailed the revered partnership with MSU – the Writing Center and the Alliance for African Partnership (AAP). "We have had a long-standing partnership with MSU in a number of fields in Makerere University. These include Human and Veterinary medicine, agriculture and recently in the Humanities. We are very optimistic that this partnership will further strengthen it," Prof. Nawangwe said.
He added that the collaborative outputs from this project should not only conclude with developing capacities of the ECRs, Research Managers, and establishment of a Writing Center in the coming year, but also be a springboard for strong postdoctoral collaborative research for both institutions and other US universities.
The Vice Chancellor also expressed full commitment by [Mak] towards the successful implementation and realization of the Writing Center initiative, citing that the project was "timely" and would help in strengthening research, grant writing and publication capacity with special focus on the ECRs and Research Managers from the different colleges and entities in Makerere University.
"The participants are a critical mass to sustainably contribute to the Research-led agenda. I have also learnt that a number of senior colleagues have been invited as Senior Mentors to provide the much-needed mentorship to the Early Career Researchers during the project cycle and beyond. I am hopeful that this approach will produce strong collaborative teams," Prof. Nawangwe said.
He urged the ECRs and the Research Managers to build their capacities and share experiences with their peers with the intention to grow further noting that they "pillars for reaping dividends of being research-led".
Makerere University through its ten (10) Colleges aspires to be Research-led in the current strategic period (2020-2030) with the intention of contributing solutions to the challenges of climate change, population growth, food security, governance, poverty, youth unemployment, among others.
Amy Peterson, Cultural Affairs Officer the US Embassy Kampala while representing Ambassador Natalie E. Brown – U.S. Embassy spoke about President Joe Biden's Africa strategy, stressing the areas of focus including pandemic recovery, economic opportunities, and conservation launched in September 2022. She explained that academic leadership is critical in tackling these challenges, and that the need for partnership was inevitable, hence the US Department of State recognition and investment in the University Partnership Initiative.
"This project support to Makerere University and Michigan State University Collaboration is part of a broader network of university partnerships that are supported by the Department of State, linking African universities with US universities.
Ms. Amy announced that the US mission in Uganda is proud to have partnered with Makerere University for over 100 years, which has helped the university become a leading academic institution in East Africa. She also mentioned that in 2022, the US mission participated in the university's centenary celebrations, acknowledging the strong partnerships that have been established over the years.
She further noted that the US mission is currently working with ten Colleges and departments of Makerere University in Uganda, and has partnerships with each of them.
"We are proud to partner with the School of Public Health, the development of the Infection Disease Institute, the deep relationship and Agriculture over the years.
These are all areas where the US mission has partnered with academics here as well as with the institution as a whole to ensure that Makerere University remains at the forefront of higher education in East Africa," Ms. Amy Peterson said.
Adding that; "But as we look forward no institution can do it alone. So, we come back to the value of these partnerships and we are so excited particularly for this project which is towards research led university because it focuses on the essential skill of writing. Writing is what every student and every academic needs to build their connections, to build their networks, secure the academic acknowledgement as well as funding opportunities to do the work that they need to do."
During a panel discussion, chaired by Prof. Ronald Bisaso, the Deputy Principal of CEES, researchers shared experiences on grant writing. Dr. Samuel Siminyu advised the ECR to align their research with the needs of the community and ensure the research creates new knowledge. He appreciated the support of USA, saying it will facilitate the processing of establishing facilities that can support grant writing. Dr. Dr. Alice Nabatanzi shared that the research ought to address both global and local challenges. Dr. Allen Kabagenyi, who addressed the question of mentorship underscored the importance of being open to learning and willing to be mentored. She said it was important for ECRs to identify a person that wants them to prosper. The researchers agreed that mentorship hinges on 3 important Cs; Clarity, Communication and Commitment for both the mentor and mentees. Mr Modecai Tayebwa advised that one ought to identify their strengths and weaknesses before embarking on the process of being mentored. He called on researchers to work in multidisciplinary teams if they are to win grants.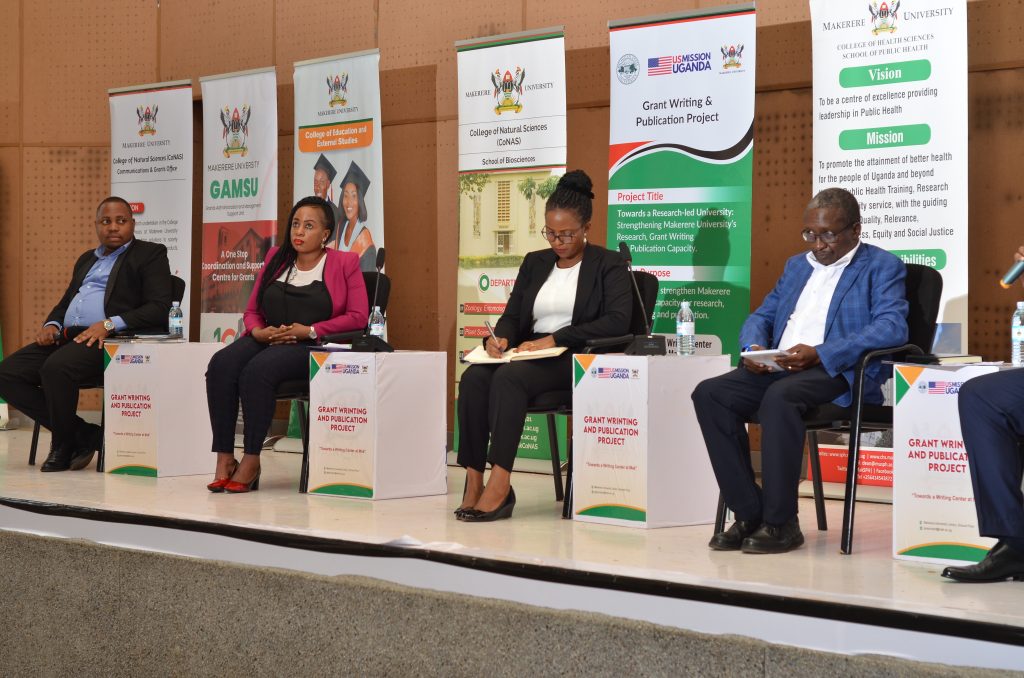 Research team
The Research team at Makerere University is led by Prof. Fredrick J. Muyodi, PI, College of Natural Sciences (CoNAS), Prof. Ronald Bisaso, College of Education and External Studies (CEES), and Ms. Stella Kakeeto from the School of Public Health at the College of Health Sciences (MakCHS). The team at Michigan State University is led by Prof. Trixie G. Smith, PI, Director, The Writing Center (WC); Dr. Grace Pregent, Associate Director (WC); Ms. Ann Allegra, Proposal and Capacity Strengthening Administrator, Alliance for African Partnership (AAP); Dr. José Jackson-Malete, Co-Director (AAP). 
By Davidson Ndyabahika